As part of this whole "Make our house look like a comfy home not a box of wood" plan, we've updated our living room, kitchen, dining room, and our bedroom. But now the time has come for us to set our sights elsewhere.
Now because I'm annoyingly stubborn and lazy, I've pretty much said I'm not going to bother decorating our office. Mostly because eventually it will become a nursery and I'll decorate then. Until then it's an office….it doesn't NEED decorating.
This leaves our bathrooms and the guest room left to decorate. The bathrooms I've actually got some design ideas on, and will have photos to show you of my latest project tomorrow. (I haven't actually finished my latest project; I have to actually break out the sewing machine tonight. Between fits and urges to play World of Warcraft. Go my nerdy self!) So that leaves our guest room.
Do you have a guest room? Did you decorate it? Do you even want guests? We do, but we want them to be guests….not our newest roommate.
Ahh a guest room and the conundrum of decorating. You want it to be warm and inviting, yet not so comfy that your guests get the idea that they can move right in right? Yes? Phew…was afraid I was alone there for a moment.
So for the guest room we've decided to go with the Americana theme. Because Alex is terrifyingly patriotic. Because when it's done my hope is it will blend well with the rest of the house. And because it's actually a pretty easy theme to decorate too. Hurrah for easy decorating!
So far we have a barn star over the bed. It's plain right now, but in the end it will resemble this one.
From there I'm going to go with a basic curtain that is in a blue or red plaid. You know, warm, inviting, screams country living or else.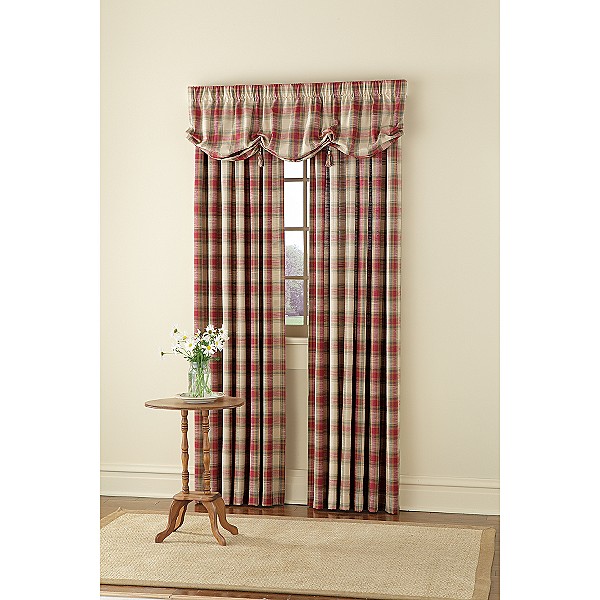 Then ideally we'll get a braided rug to toss on the floor.
Floors that will eventually be carpeted, but for now are depressingly gray. So the bigger the rug the better in my opinion.
Lastly, we'll put the bed together. So far I've decided on one of these three sheet and quilt sets. Which one these to ultimately choose are where I am hesitating. I don't want to spend a huge amount of money, but I do want it to be comfortable. I also want to stick with our "theme" without screaming AMERICA!!!
Option A is gorgeous, red, but simple. However it might clash with the curtains. But I could change the curtains. I'm open-minded. I only wish the bedroom looked like this…but alas it does not.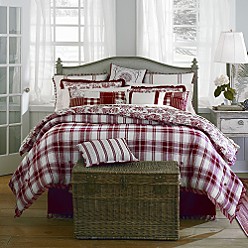 Option two is a twist on option one but in blue. Obviously this room is in red, white, and blue. Again simple not too loud of a pattern, but going with our theme.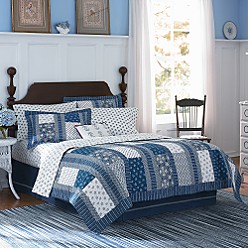 And lastly we have the most obvious of the three. By far the picture is the loudest, but if you take out all of the accessory pillows it's not that bad.  I don't know…something about this speaks to me. Perhaps its the stars and stripes, or maybe its my hubby going "I WANT I WANT" in the background.
What do you think? How am I doing in my thought process for the décor plan so far? I'm pretty open to suggestions here, but the room is going to be America themed. If for no other reason than Alex will be happy and that means the bathrooms will be decorated the way I'd like them to be.